Club News & Updates
Announcing 100 and 50 yd Airgun Benchrest!  Special thanks to Tenacious Airguns for the assistance in making it happen! 
Match Winners: Congratulations Derrick W. and Jim C.!
HUNTER PCP
Derrick The Wall     54/60
Cricket 2 Tactical  |  JSB 13.43  |  Sightron SIII
Scotty H.     50/60
RAW HM1000  |  JSB 13.4  |Sightron FT
Robert D.     46/60
Daystate Redwolf  |  JSB 13.4  |  Hawke 10-24
David T.     44/60
Daystate RedWolf  |  JSB 13.43  |  Sightron SIII
Jim C.     42/60
Daystate Redwolf  |  JSB 13.4  |  Sightron SIII
Lupe     n/c
HW100  |  JSB 10.3  |  CP 4-12
HUNTER PISTON
Bill B.     36/60
HW 97  |  JSB 8.4  |  Sightron SIII
20 FPE PISTOL ( TexTreme )
Jim C.     39/60
Atomic XR  |  AA 16  |  Hawke 3-12
Derrick The Wall     34/60
BRK Custom  |  13.73  |  Athlon
David T.     23/60
HW100  |  JSB 10.3  |  Hawke
Shepard M.     wd
Marauder Pistol  |  HN FTT 14.4  |  Hawke 3-12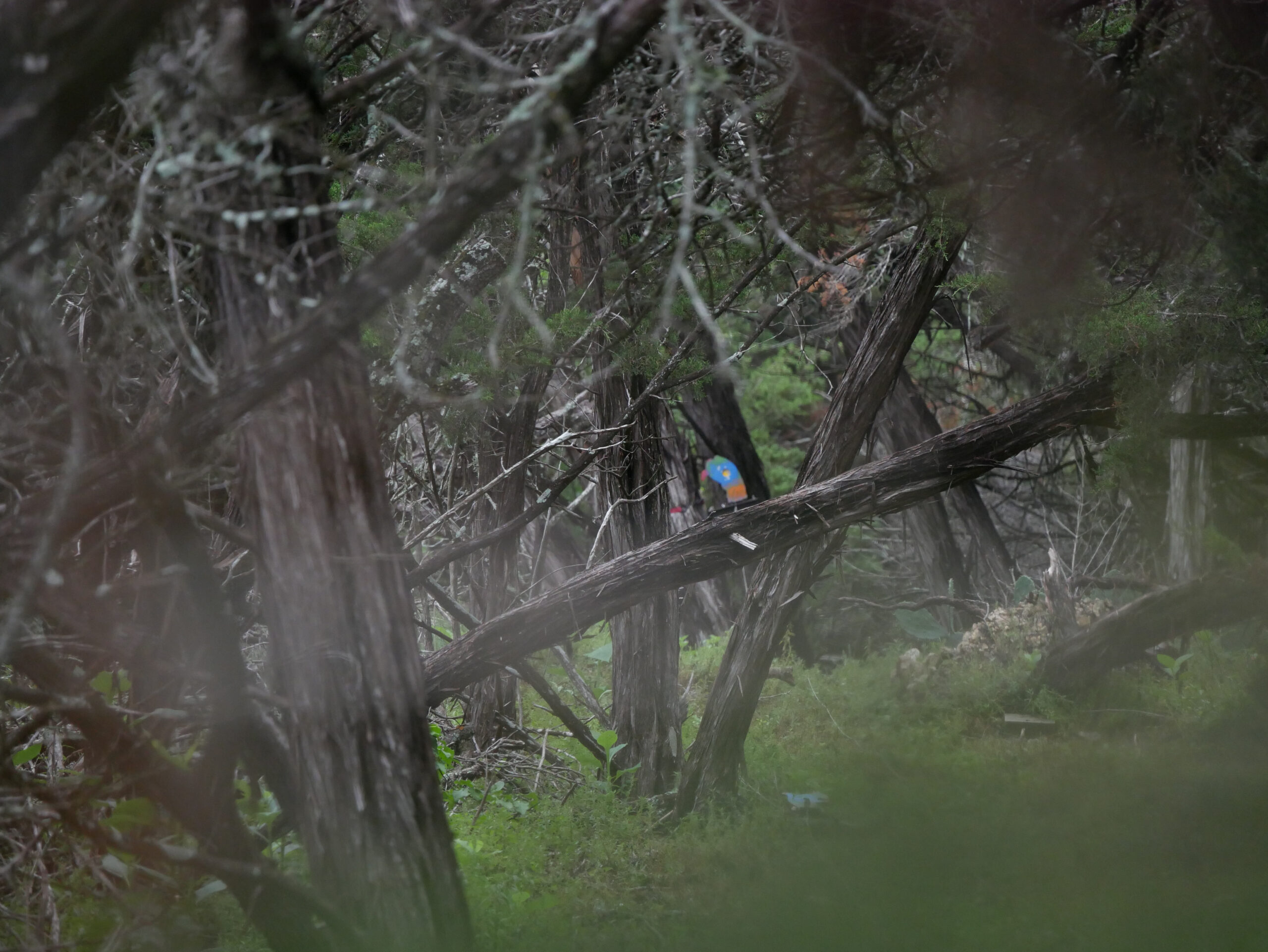 groundcover helps hides a cobra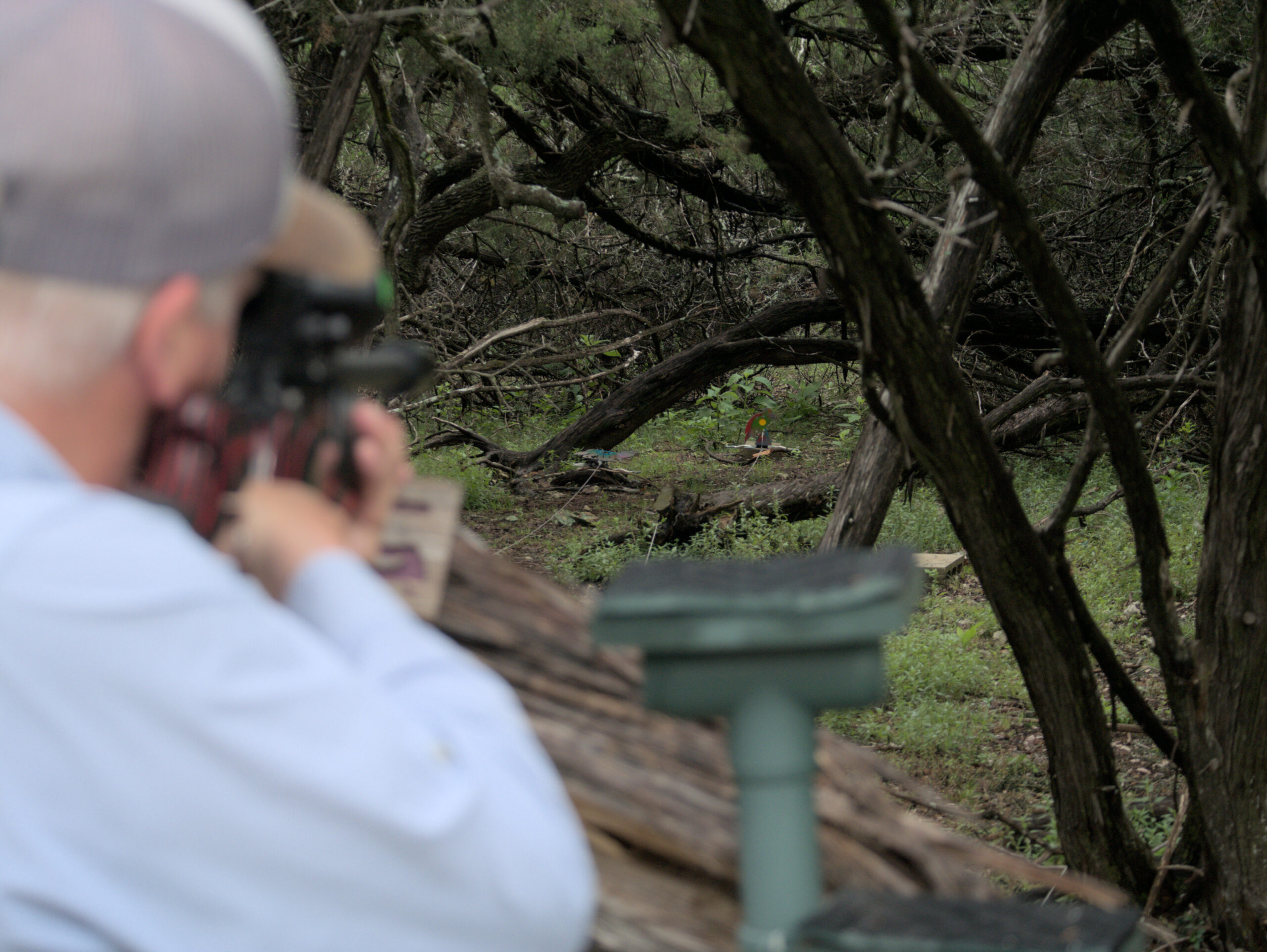 A dark morning proved challenging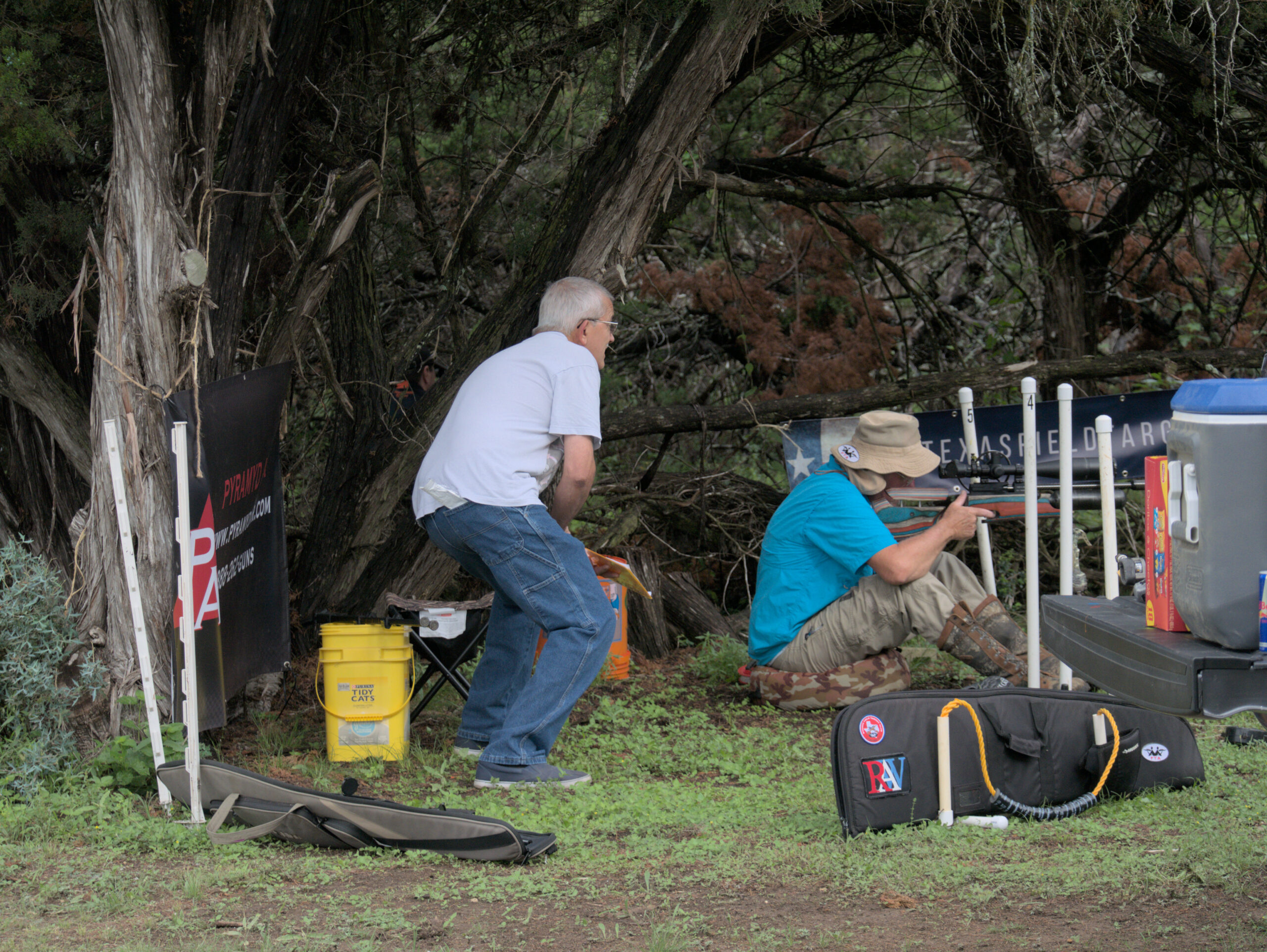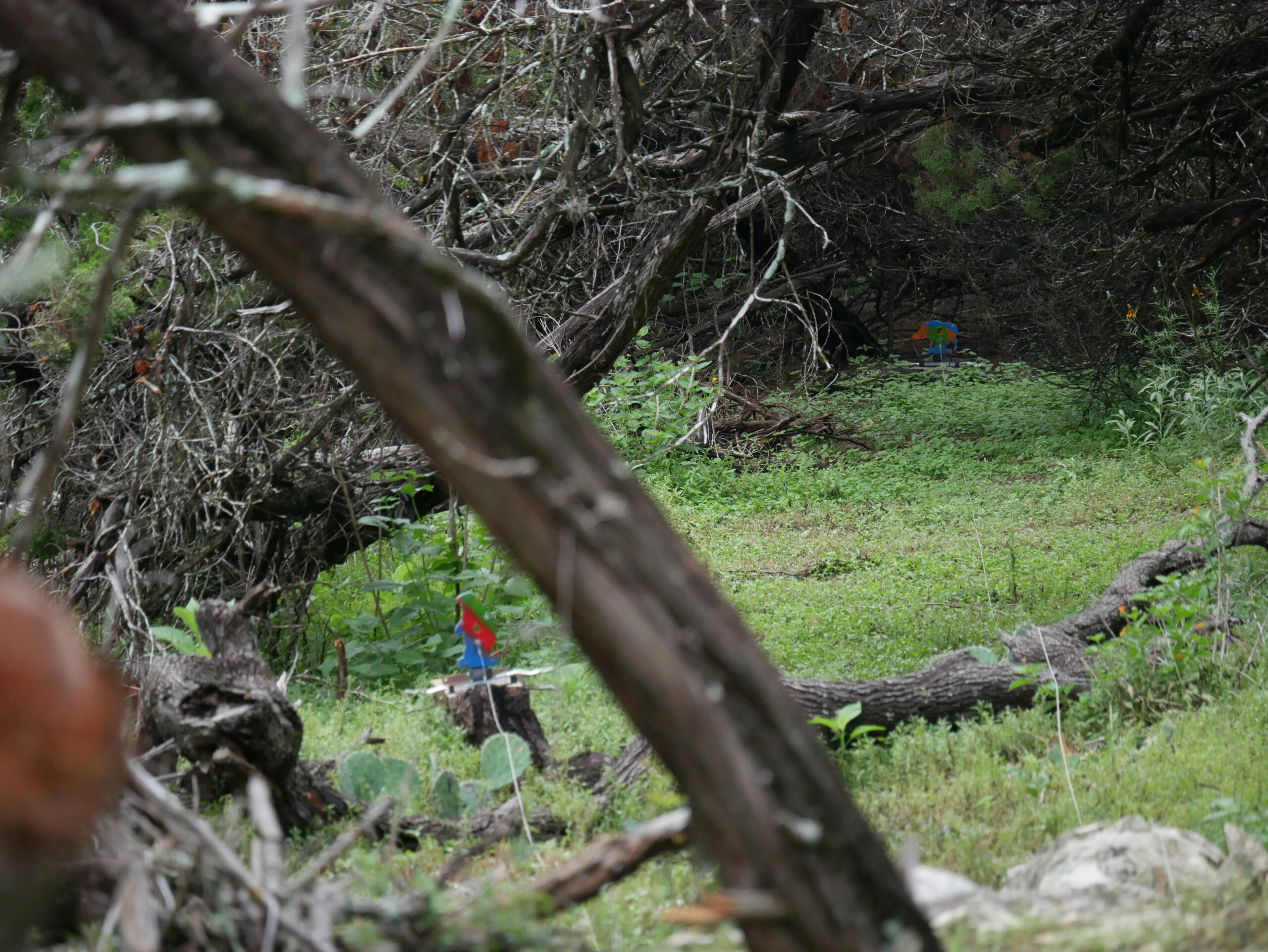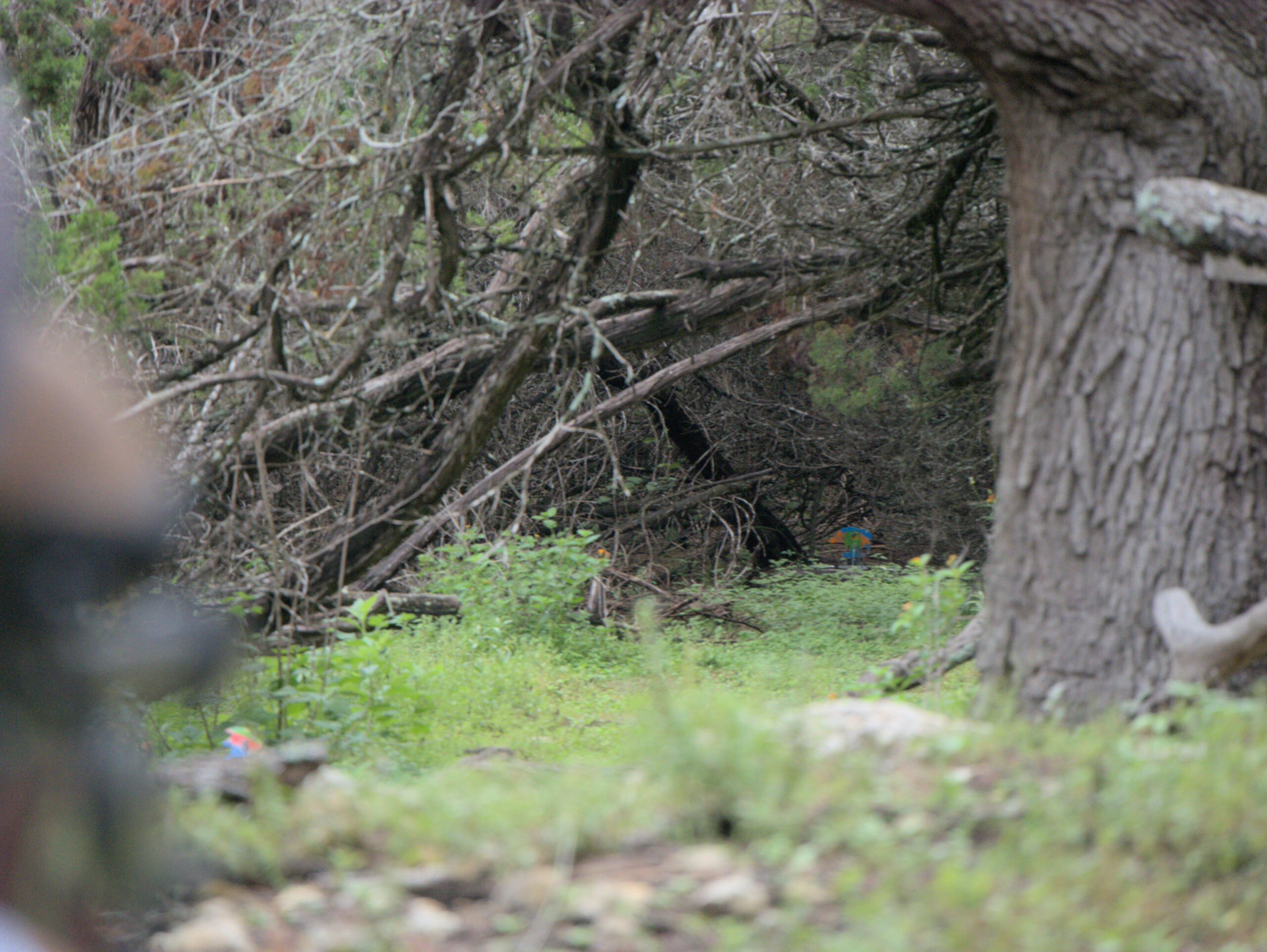 2nd match, light more overhead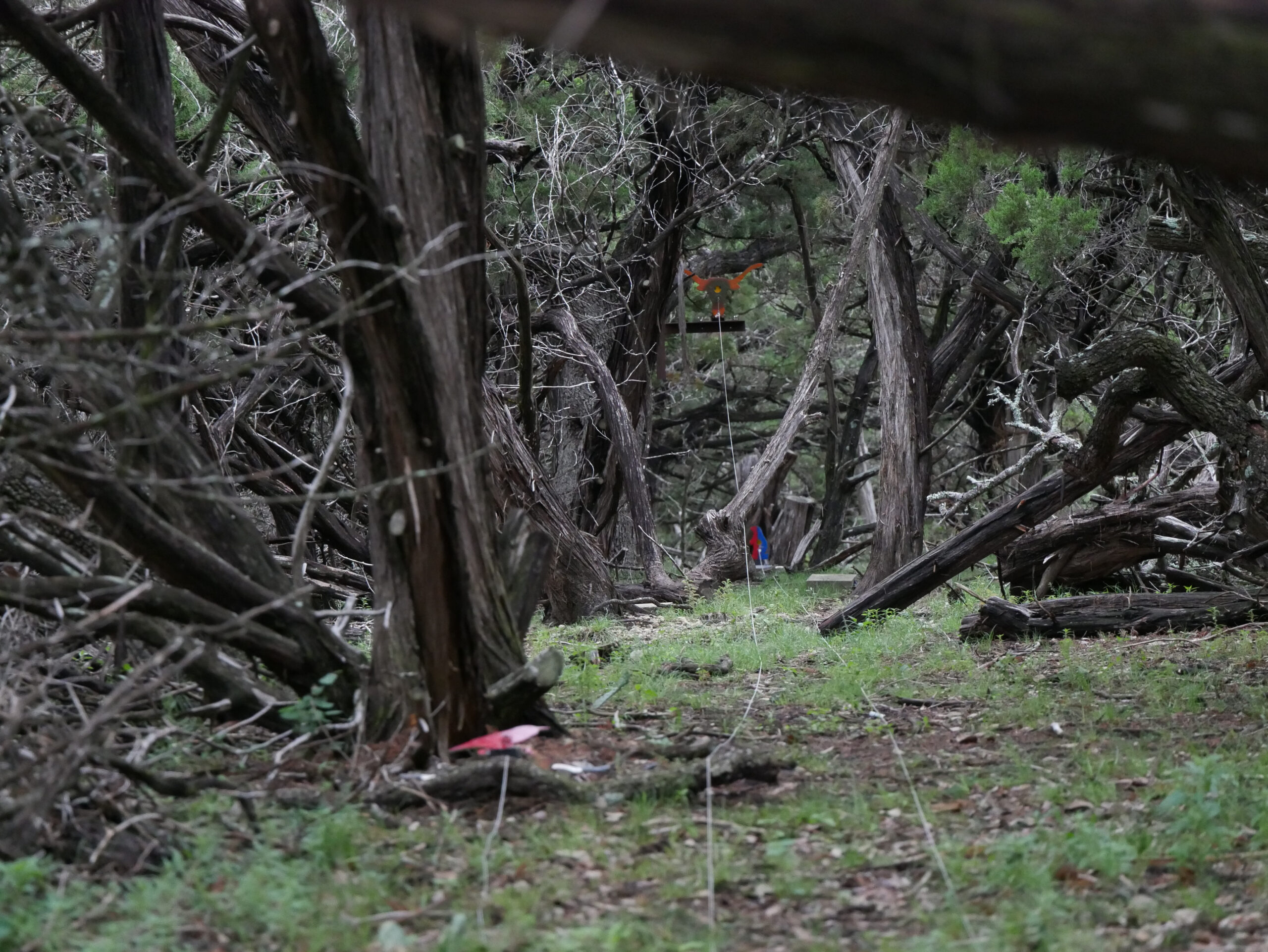 lane 10, where a Texas Longhorn hides in a tree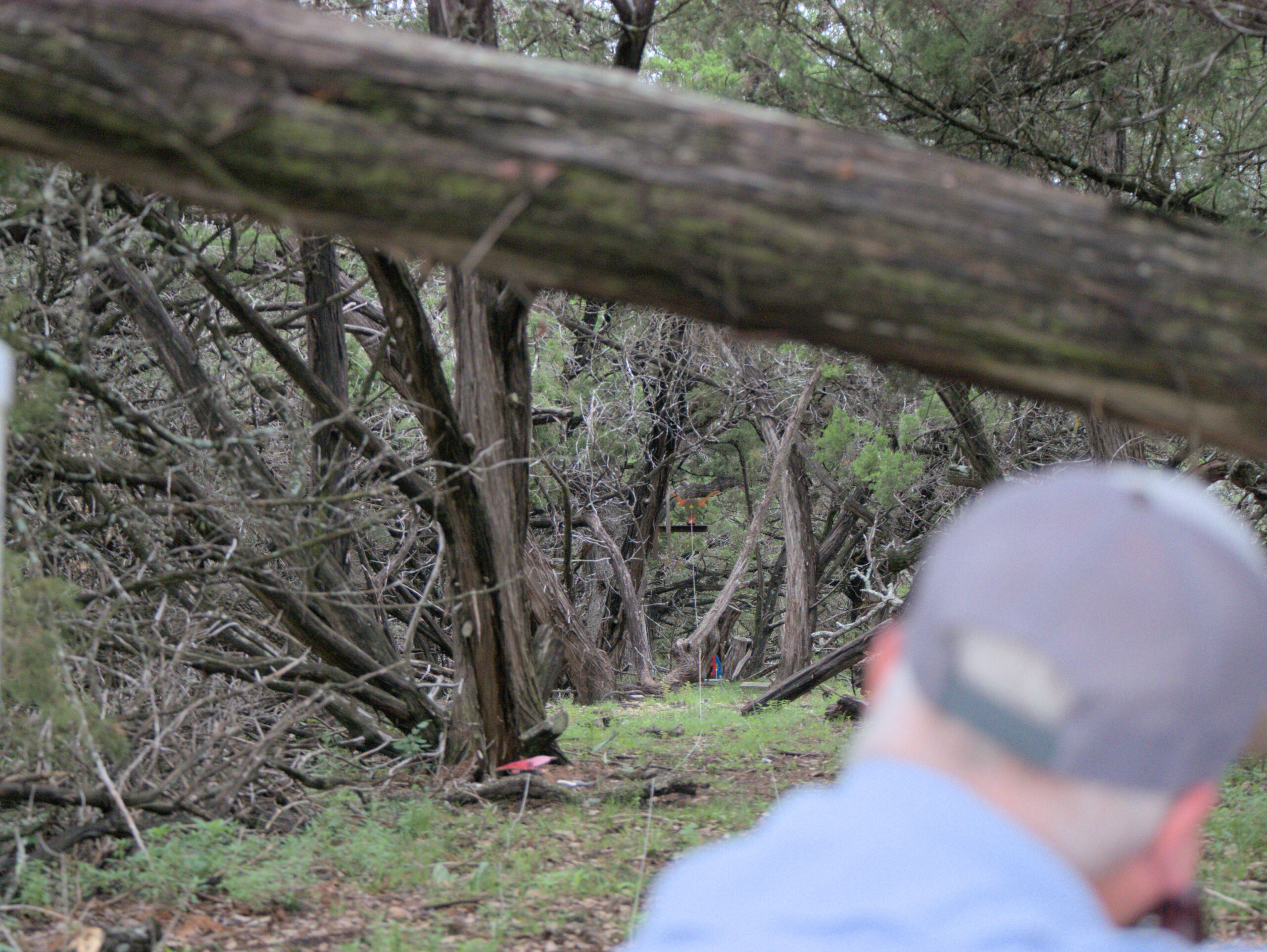 Lane 10, shooter perspective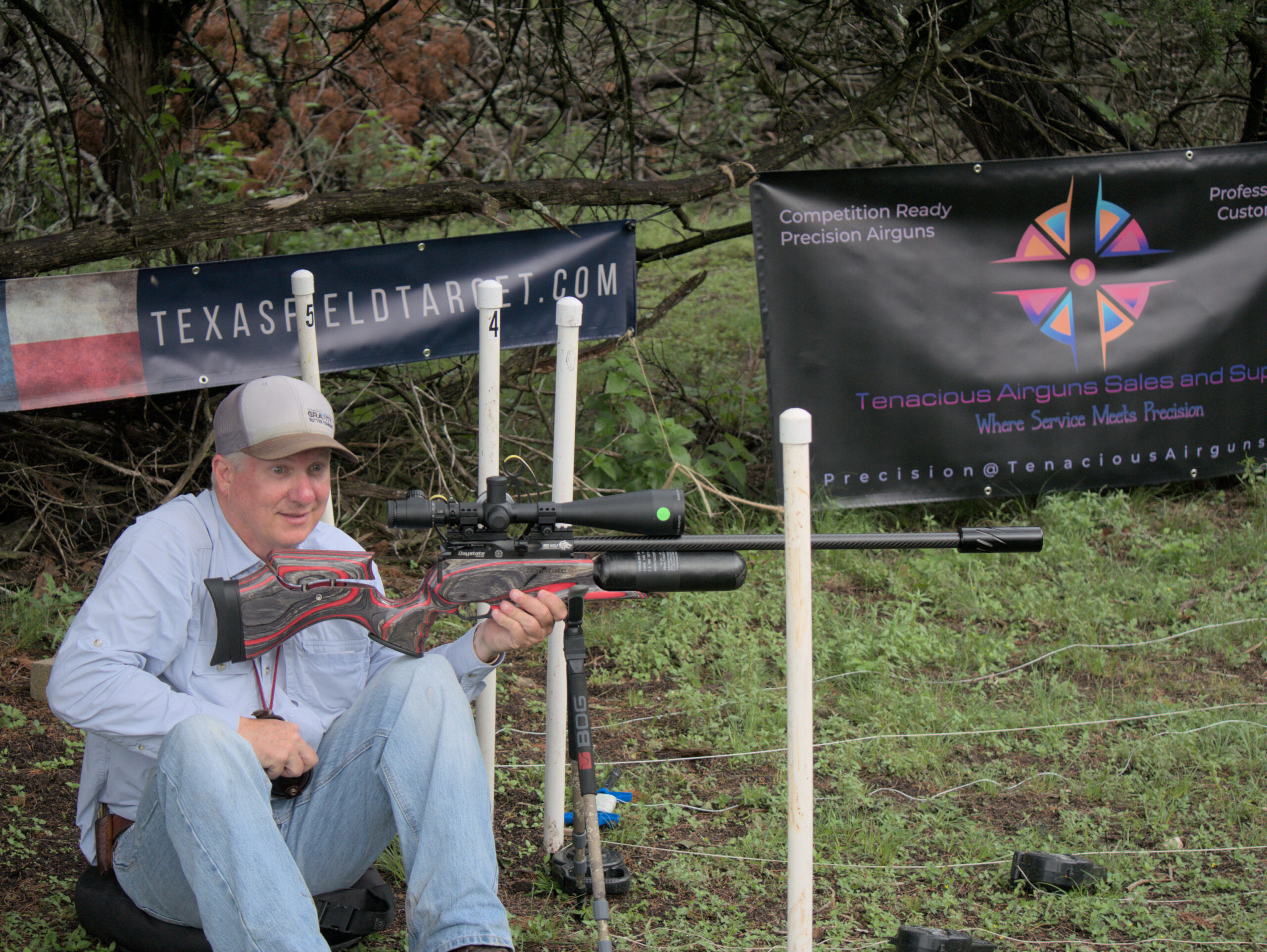 Lane 5 is a quick scoot from lane 4.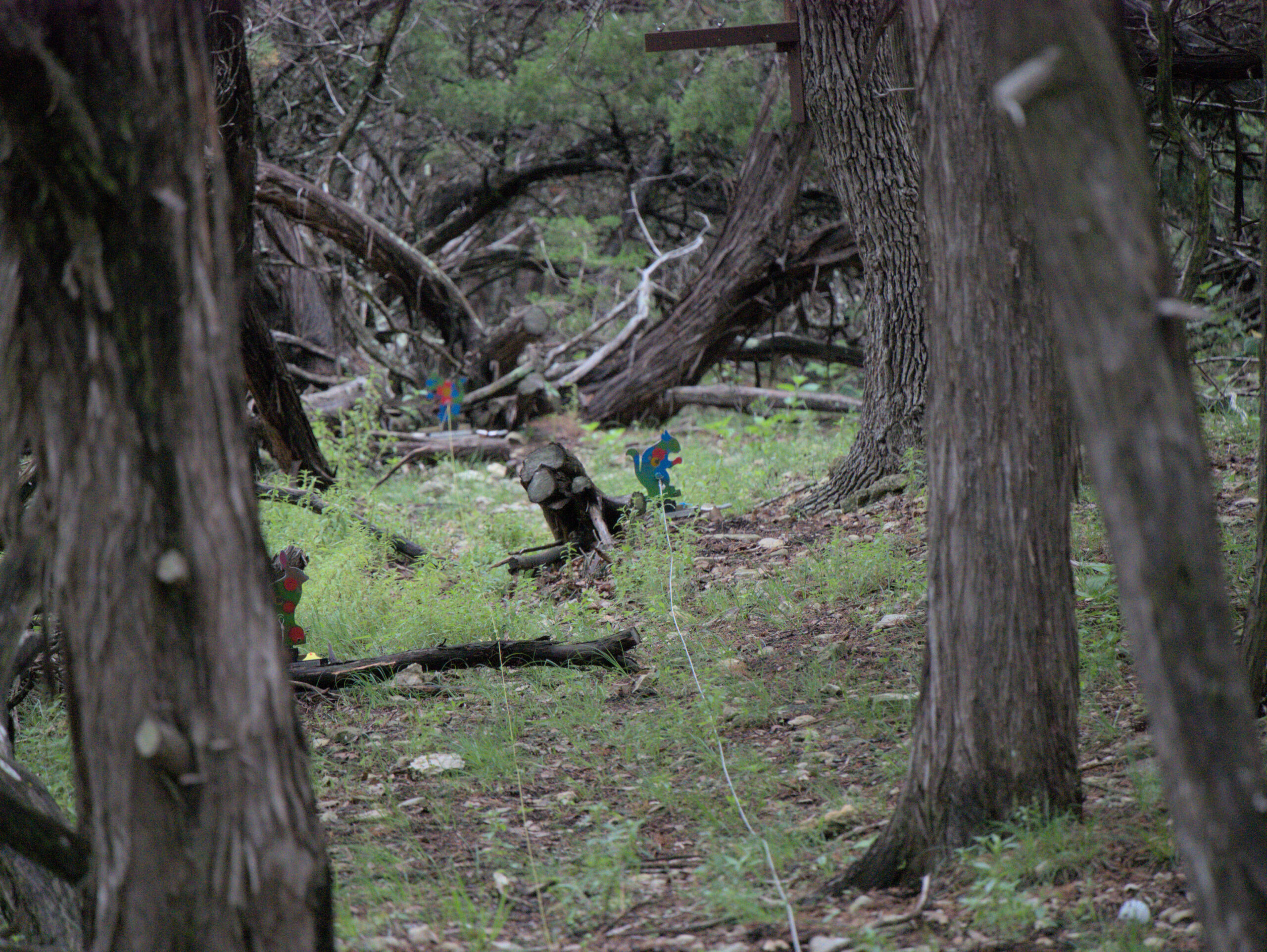 Post-Match Report
Howdy airgunners! Saturday early am proved to be a bit saturated but the powers that be blessed us again with some fine airgunning weather. Forecast was ominous, shying away some shooters no doubt as the radar was not showing us hope early on. Temps actually dipped for a spell, humidity lifted slightly and the winds shifted towards the shooters more. By afternoon the bench shooters had clearing skies and some typical swirly winds at the 50 yd range.
One thing I've learned over the years is I get nervous when things are running too smoothly, and Match Direction is no different. I was waiting for the proverbial ball to drop and sure enough, it did, and a few times this time. Seems we have one confused and one traumatized target. One doesn't seem to understand that you fall only when the paddle is hit, just like when being tested or smacked around like a TV set using an antenna. And lets not discuss the poor chicken, rest her soul, whose paddle is now a doughnut. Lastly, one of the strings volunteered their services once as a "self-resetting" target by getting caught on vegetation yours truly did not mow down. The Gopher on lane one was not designated cover for the Crab either, although the shot was kinda cool from a tactical standpoint. From the shooters perspective, the mid target was partially blocking the far target, leading the shooter to either shift to change the angle or hit the mid target second shot and leave down for a clear view. Lastly, I am withdrawing myself from the match for equipment failure. Reg creep took my pistol over 20 fpe at some point in the day, beyond what I see with temperature increases. In retrospect, the pistol was telling me it was not healthy and I just wasn't listening. Ending pressures were lower, more spiraling, missing far targets high, etc. Lesson to be learned here is don't ignore signs of speed increases. Fortunately my scores had no bearing on results so outcomes are not changed and the targets were mostly spared from high fpe damage. Can't damage a target if you don't hit it. The icing on the cake was when I mis-announced the results. Scotty please forgive me!
Two Field Target Matches were contested yesterday and a 50 yd benchrest shoot that went on for nearly 2 hours! While the published limits were 35 fpe, in actuality we "introduced" larger calibers pellets to our parent club's president who confirmed our new .30 cal 100 fpe limit. While it seems easy to approve .30 cal pellets, in reality there is much more to consider and it looks like we did this the right way. We are proud to announce the Boerne Field Target Club will be hosting 50 and 100 yd benchrest matches up to 100 fpe! Huge thanks to our sponsor, Tenacious Airguns, for the assistance and technical expertise with this. Tenacious Airguns brought out some amazing rifles to exemplify higher caliber airguns. It worked, we are approved for 100 fpe and it looks like some fine airguns are finding new owners!
Speaking of sponsors, Pyramyd Air has been with us for nearly over a year now and a huge contributor to our success. Some great people over there who love to support FT clubs and do it well.
Jerry C., the man behind Pellet Gauge, was in Texas recently at Ranchito Robinson where I had the opportunity to thank him personally for his sponsorship of the Boerene Field Target Club. PelletGauge.com has been our sponsor since last year. Thanks again Jerry!!!
We also have a new sponsor!!! SA Scuba Shack's owner has agreed to provide a tank fill for our matches! So the community tank for matches will be filled by SA Scuba Shack! Can we say BFTC has the cleanest air in South Texas? HUGE thanks to Dave, owner of SA Scuba. For true 4500 psi fills and super clean, dry air, head on over to SA Scuba Shack!
Special thanks to TexasFieldTarget.com and its parent company Cosine Sports Solutions LLC for the tins of FX pellets as prizes! They formed to support FT and airgunning by providing the airgun industry digital services, websites and dedicated hosting. They directly support the BFTC by providing our website, BoerneFieldTarget.com and its hosting and donating items for club operation and matches. This means shooters can now register and pay online!
As always, a huge hat tip and thanks to Robert D., Ron R. for keeping me on target.
Jim C. gets the credit for designing our course and many thanks to all who help setup and breakdown.
And I cannot forget Lupe, who donated a .22 scoring plug to the club. Amazing how a small item can make a difference. Thanks Lupe!!!!
Hello Shooters! Saturday we had 5 shooters in total for a great match in slightly cooler weather. Winds were gusty at times after the morning clouds passed. Course scales 32 on the Troyer. Art W. with Team Wolfpack took the win, great shooting Art and always great to...
Contact Us
We look forward to hearing from you! Kindly complete the form below and one of us will get back to you soon. In addition , Boerne Field Target can also be reached on the foums Airgun Nation and Gateway to Airguns. 
Site Location
33 Shooting Club Rd.
Boerne, TX 78006